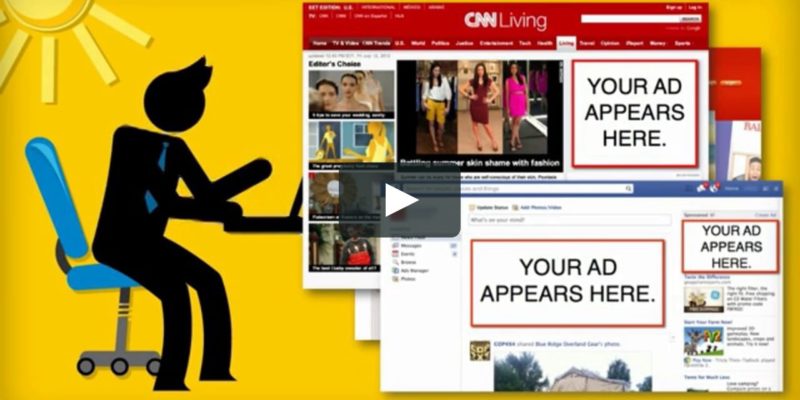 How Does Retargeting Work
Do you run a business and now you have become interested in selling your products and services online successfully? If so, you definitely need to learn about online advertising techniques. It's important for you to understand how to promote your website effectively and attract targeted audience to your business.
When promoting your business online you should focus on such online advertising techniques as search engine optimization, Pay per Click advertising and social media promotion. Actually, you can use each of these online advertising techniques to attract targeted traffic to your site and increase your brand awareness.
What is great about Pay per Click advertising is that it is an efficient and quick way to promote a website. It's worth noting that Pay per Click advertising is a tool that can be used both for business promotion and brand development purposes. It's crucial for you to know that this online advertising technique has its own drawbacks. Keep in mind that if you use PPC advertising services to promote your business you'll need to pay for each click generated to your website. However, not every website visitor becomes a buyer.
Obviously, it's not enough to promote a website successfully. You also need to convert your website's traffic into sales. Retargeting (also known as remarketing) techniques are designed to help online business owners increase the conversion of their sites. In this blog, we are going to provide readers with some insights into retargeting.
What is Retargeting? How Does Retargeting Work?
There is no question that every business owner is concerned about converting website visitors into customers. According to the statistics, only 2% of website users make a purchase after the first visit. Of course, you need to do your best to turn more website visitors into clients.
What is retargeting? How does retargeting work? Actually, these are two questions faced by so many people who sell products or services online. It's important to note that these kinds of questions are frequently asked by beginner entrepreneurs who have recently gotten into online trading. Bellow, we'll explain what retargeting is and how retargeting works.
Advertisement has been launched. Let's imagine that you have just launched your advertisement. At this stage, your prospects begin to see your ads.
A potential client visits your website first time. Obviously, after seeing your advertisement some people may choose to visit your website. At this stage, a potential client is getting familiar with your products and services. However, he or she is not ready to make a purchase yet.
A potential client leaves your site without making a purchase. As mentioned above, most people are not ready to purchase a product on a website during their first visit. That means that a potential customer will probably not make a purchase when visiting your website first time.
A potential client decides to search for product or service once again. If a potential client hasn't purchased your product or service after visiting your site earlier then he or she may decide to repeat search once again. Now, it's time when a retargeting technique comes into play.
A prospect sees your advertising once again. Most likely that a potential client has already forgotten your website, but he or she is still interested in purchasing your product or service. So, it's the right time to remind a client about your business. Actually, retargeting technique is designed for this purpose. Retargeting is all about reminding prospects about your business and turning them into your happy customers.
A prospect becomes your client. Finally, a prospect chooses to visit your site once again and makes a purchase.
As you can see, a prospect may go a long way before to make a purchase on your website and become your happy customer. Remarketing obviously plays a key role in the process of turning a potential customer into a real one. There is no doubt that retargeting technique works and allows business owners to get effective results. It's important to note that retargeting is a cost-effective online advertising technique that provides high return on investment.
We have just answered the question "How does retargeting work?" and explained each stage of purchasing process in detail. However, a lot of people are also eager to know how retargeting works technically. So, how does retargeting work technically? Read on and find the answer to this interesting question.                                                                                   
How Does Retargeting Work Technically?
A site tracking code is added to a website. First of all, the side tracking tag is implemented into website's code. Actually, the tag is added to each of site's web pages. After the code has been implemented into your website the cookie will be placed in the browser of each your visitor. So, the tracking process begins.
Advertising platform starts retargeting your prospects. If some people have visited your website and then left it without making a purchase the advertising platform will start searching for them.
The advertising is shown to prospects once again. If the system finds so called "tagged" visitors it will show ads to them once again. As a result, the chance of turning your prospect into real customer increases.
A prospect buys your product and becomes your client. After seeing your advertisement your prospect may choose to click on your site and consider your products or services once again. Finally, he/she may choose to purchase your product. Thus, your business will get more sales.
So, how does retargeting work technically? Let's repeat everything once again. A tracking tag is implemented into site's code and the process of retargeting prospects begins. A client sees your ad, goes to your site and makes a purchase. That's it.
Do you have any questions about retargeting? Or, maybe, you are interested in our retargeting services? One way or another, contact Simplicity Marketing LLC today! Our online marketing experts can help you grow your business by using the power of retargeting! Best of luck!