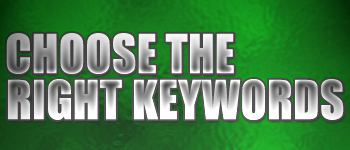 How to Find the Best Keywords
Keyword research is a key part of any search engine optimization strategy. Before to get started with search engine optimization you need to analyze your website carefully and pick up the best search terms for your keyword list. Actually, these keyword phrases are used by your potential clients in major search engines (such as Google, Yahoo and Bing) for finding products or services offered by your business.
Obviously, you should aim to choose profitable keyword phrases which can drive high amounts of targeted search engine traffic to your site and a lot of potential clients to your business. On the other hand, it's a good idea to focus on keywords of low competition. If you choose to optimize your site for low competition keyword phrases, your its web pages will have good chances to get ranked number 1 on Google and other search engines. Your goal is to pick up low competition keywords which can generate a lot of targeted users to your website.
Keep in mind that you will waste your time and money if you optimize your site's pages for wrong keywords. That's why finding good keywords is crucial for your online business. Do you want to know how to find the best keywords for a website? Here are a few tips for finding good keywords for your SEO campaign.
1. Make Use of Google Keyword Suggestion Tool
There is no doubt that Google is the most popular search engine that can generate high amounts of targeted traffic to any website. Thus, you need to know which keyword phrases can help you attract targeted traffic to your website from Google.
It's worth noting that Google Keyword Suggestion Tool provides users with an effective way of finding good keywords for a website. This tool can provide you with many good keyword suggestions for your SEO campaign.
Using the filter options of Google Keyword Suggestion Tool you will be able to sort search terms by the amount of traffic, competition, location, language and other parameters. As a result, you will manage to select the best keywords for your site easily and quickly.
Keep in mind that Google Keyword Suggestion Tool is an easy to use tool. Therefore, you will quickly manage to figure out how it works and how to find the best keywords for your SEO strategy.
2. Take Advantage of Google Webmaster Tools
Google Webmaster Tools can provide you with many other great keyword suggestions as well. It's important to note that people may find your site using search terms which are not included in your keyword list. However, it's crucial for you to know that most of such search terms work well and can drive the targeted traffic to your site.
That means that it is a good idea to create additional pages on a website and optimize them for these keyword phrases. By doing this, you will manage to improve your search engine rankings for such keywords and increase your website traffic dramatically.
3. Benefit from Google Analytics Tools
Google Analytics Tools are designed to analyze website statistics. Keep in mind that Google Analytics Tools can be also used for tracking the efficiency of keyword phrases. It goes without saying that you need to analyze web statistics on a regular basis carefully and see how keywords work for your site.
How much traffic do keywords drive to your site? How many sales do keywords generate to your business? If you are finding that some keyword phrases don't work well for your online business you need to replace them with other ones. Continue doing keyword research and try to pick up new search phrases for your site. Analyzing web statistic of your site will certainly help you choose many good keywords.
4. Analyze Websites of Your Competitors Carefully
Your competitors may know how to find the best keywords for a website. Most likely that your competitors have already performed keyword research and started optimizing their web pages for the right search terms. That's why it's a great idea to analyze websites of competitors carefully and see what keyword phrases they work on.
It goes without saying that analysis of competitors is very important work that has to be a part of your keyword research strategy. Perform competitor analysis regularly to find a lot of good keywords for your website. However, the most important thing is that analyzing websites of competitors will help you save a lot of time on keyword research work. So, you'll be able to maximize your SEO efforts.
How to find the best keywords by analyzing websites of competitors? Actually, you can easily benefit from Google Keyword Suggestion Tool. The tool has the special option that can be used for finding good keywords. All that you need to do is to enter the URL of your competitor's site and the tool will provide you with the list of keywords for which a web page is optimized.
It's widely known that keyword phrases have to be inserted into Titles and Descriptions of web pages. By doing so, you will make a web page relevant to the targeted keywords. That means that you always have to pay close attention to Meta Tags when analyzing web pages of your competitors. It is another effective way of analyzing competitors and finding good keywords for a website.
5. Consider Searches Related to Your Keyword Phrases
Google (as well as other popular search engines) often provide searchers with suggestions which are relevant to their keywords. Let's imagine that you are trying to find web pages which are relevant to "how to find the best keyword" phrase. The first thing that you need to do is to enter this keyword phrase into the search engine string and press Enter. At the bottom of the search page Google will recommend you keyword suggestions which are relevant to this keyword phrase. These include "how to find the best keyword for SEO", "how to find the best keyword for website" and other search terms. Of course, most of these suggestions may become a good addition to the keyword list of your site.
6.  Use Advanced Keyword Research Tools
For even more in depth keyword research consider 3rd party tools such as Longtail Pro and Market Samurai.*
Need a content marketing strategy for your business.  Contact Simplicity Marketing LLC today.  (316) 247-1364
*Simplicity Marketing LLC is an affiliate vendor of these tools and may receive compensation when purchased through the links provided.