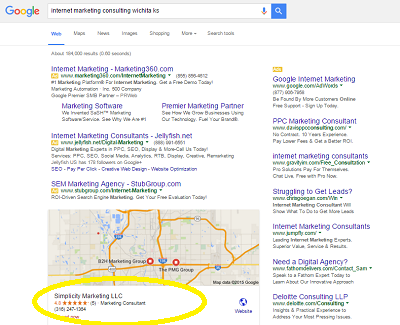 Local Marketing Strategies You Should Be Using
Do you run a local business? Would you like to promote your products and services successfully on the local market? If so, you should definitely develop an effective local marketing strategy for your business. It is worth saying that most local marketing strategies are focused both on online and offline marketing methods. In this guide, we are going to provide the best local marketing strategy ideas that you can apply for your business.
Optimize Your Website for Geo Targeted Keywords
Obviously, a local marketing strategy of any business has to include search engine optimization of a website. However, it is very important for you to optimize your business website for local keywords and attract search engine traffic to it.
Of course, it doesn't make sense for you to optimize a website for general keywords if your business offers products or services only in the certain geographical area. In order to succeed in search engine optimization of a local business you need to choose only regionally based keywords for your SEO strategy.
Special attention should be also drawn to the fact that local keywords are not as competitive as general keywords. This means that your site will have better chances to achieve top search engine rankings for the necessary keyword phrases.
Take Advantage of Social Media Marketing
There is no need to say that such popular social media sites as Facebook, Twitter, Google +, Flickr, Instagram and Pinterest are used by a great number of people from all over the world. Most likely that a lot of people, who live in your region, use these social media sites as well.
This means that popular social media sites can generate high amount of targeted traffic to your website regularly. Targeted users of your website will definitely become potential clients for your local business in the end.
It is necessary to say that social media sites can be used not only to promote your local businesses. The owners of local businesses can also use social media sites as an effective tool to communicate with clients. It goes without saying that social media marketing will also have a huge positive impact on your brand development strategy.
Social media marketing delivers a lot of important benefits to the owners of local businesses. That's why social media marketing is included in local marketing strategies of different companies. However, it is very important to know how to promote a local business in social media effectively.
Use Email Marketing to Communicate with Your Clients
Email marketing technique works perfectly for local businesses of different types and sizes. Using email marketing will help you notify your customers about the most important events that take place in your business.
Also, you can use email marketing to remind your clients about your local business. Email marketing is considered to be an effective way of increasing the number of return website visits and return sales.
Obviously, local business owners should use email marketing as a splendid opportunity for communicating with their existing clients and prospects. That's why email marketing has to be included in a local marketing strategy of your business.
Include Your Business in Local Listings
When trying to find local businesses people often prefer to use local search tools. This means that you need to include your business in local listings. Don't forget to add your local business to Google Places. When including your business in local listings make sure that its address and mapping location is correct. So, people will be able to find your business easily and quickly.
Offline Advertising Methods May Work Effectively for Local Business
Some local business owners are focused only on online marketing techniques. However, offline advertising is also a very important component to your local marketing strategy. That is why you should never neglect using offline advertising methods in your local marketing strategy.
Such offline advertising techniques as advertising in local newspapers; distributing direct-mail catalogs; distributing brochures, business cards, leaflets, flyers and discount coupons; cold calling; radio spot; TV commercials and freebies should be definitely considered by business owners as their local marketing strategy ideas.
If you try these offline marketing techniques you certainly need to analyze their efficiency carefully. As a result, you will manage to realize whether this offline marketing technique is effective for your business or not.
It is a Good Idea to Provide People with Special Deals from Time to Time
Of course, people like to get discounts when purchasing products or services. So, the owners of local businesses can take advantage of this fact. This means that it makes sense for local business owners to provide their customers and prospects with special deals and discounts periodically.
It is necessary to say that such a marketing technique provides local business owners with many important competitive advantages. Offering deals and discounts will definitely help you attract more new clients to your local business.
It is important to know that the information about special deals and discounts is quickly spread in the internet. So, if your local business offers special deals and discounts then people will write about this on various forums and social media sites.
Take a Responsible Attitude to Business
In order to do business successfully you need to advertise your products and services effectively. Nevertheless, it is important to know that advertising is not the only factor that determines the success of a local business. Your business success will also depend on your attitude to business. People prefer to deal with real professionals who are dedicated to what they are doing!
Your main goal is to earn the respect of your clients. That's why you must be always committed to the best possible customer experience. So, make sure that your local business offers high quality products and excellent customer service. If you make your clients happy with high product quality and customer service they will leave a lot of positive feedback about your business. So, the success of your business is inevitable!
Call the experts at Simplicity Marketing LLC today to develop an effective marketing strategy for your local business!